EDIT by voluspa: "un-announcing" this thread since there's two of the image posting guide in this section of the forum (and yet another in the FAQ)
How to post a single image:
Simply click the Options tab when creating a post, and then click the File attachment button. Browse to where the image is saved on your computer and click OK.
Please note! The image will not appear until you click the post button at the bottom of the page, neither will it show up in the preview window.
Posting a large image, or an image hosted on your own website:

When posting a large image you will need to set the width and height dimensions. Otherwise you will need to scroll the forum window to see the whole image, and no one really wants to do that!

So, here's a handy guide explaining how to post images that fit into our forum window:

1. Click the Insert/edit image button.

2. Set the first dimension checkbox to 530 pixels, this is the width of the forum window. If you don't know the height dimensions take a guess, you can always click the insert/edit image button again to update it.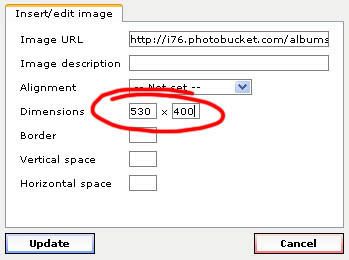 3. Ta-dah! Your image fits properly and looks great.



MULTIPLE IMAGES GUIDE!
If you need to display multiple images when creating a post, here's how to do it:
The ImagineFX server only allows you to attach one image per post. So you'll need to upload your images to another server or website. Here are a couple of suggestions:
www.photobucket.com
www.imageshack.us
Once you've uploaded your image, find its url. For example http://www.photobucket.com/myartwork.jpg.
Copy and paste the url into your forum post.
Highlight the url.
Click the Click the Insert/edit image button (the one that looks like a tree)

Copy and paste the url into the pop-up link window.
Click Insert.
You're done!
OTHER NOTES:
Remember to upload images in the jpg format.
Make sure to add the .jpg extension to the end of the file name. Otherwise the server won't know what type of file you're trying to upload.
Try to keep your images under 1Mb in size, and no bigger than 530 pixels in width.

---
--
Tom
ImagineFX