Over the past 2 years i have had many kind artists help me out and guide me along the way. A few have given great critique and advice, but they are too busy to always critique. some have given good critique but not really explaining in depth. and Most just say "hey thats cool" and give a good word of encouragement. all of them are good. im not complaining.
But! i have come to figure out my own way of critique myself. While its good to get advice, no one can teach you better than yourself. When you get that feeling there is something wrong or "not working" with an image as you paint... stop! dont draw or paint anymore until you figure out what it is. step away for awhile, flip the image, turn it upside down, and sideways. check it against the principles and elements of design::::
here i have made a chart: this should be read from the center out. you see, the elements and principles are surrounding the smallest circle. Story, Mood, Idea, Concept. your image should orbit around whatever that is for you. to the side of the circle there are some pointers i picked up from books and various places. Following the image there is a "Do's and Dont's of Art" list. If you guys want to add pointers to the Do's and Dont's list, feel free to post right here in this thread. ill update list.
DO's and DONT's OF ART
DO'S
Do consider WHAT you are painting: what about the image is most important. get that done first. everything else can have less attention.
Do light your image early on and stick to light source. light falls and rises on planes creating smooth and hard edges.
Do back light or side light the focal point to make it stand out.. usually with complementary color. oh and limit the highlights.
Do check your image as you progress against the art circle to make sure you are following the principles. is there variety? is there harmony, contrast, unity, etc...
Do position the subject or focal point in interesting angles and in the sweet spots of the canvas. (i.e. rule of thirds)
Do add detail in the foreground and less detail in the receding shapes to create depth.
Do compare your image to an artist you look up to. see what the differences are and how you can attain that same level. ASK YOURSELF WHY? your favorite artist did what he (or she) did.
Do consider the material / subject you are painting and how it reacts to light, its surroundings, and gravity. check against references.
Do create variety by not having two intervals the same. for example. dont have two objects the same size, for they will compete for attention. unless you are making an Alien vs Predator poster.
Do find the planes of an object. Watch the angle of surface form as it changes, then record the tone of value cause by the change of angle.
___________________
DON'TS
Don't start an image from a a photograph. it will crutch your skills and you will not be able to start an painting without the use of a photo. learn the basics of drawing and construct your image from scratch. use photo references loosely.
Don't just draw a character on a white background. at least add a hint of a setting or textured background. but this is debatable.
Don't crop your image on joints. your character will look like an amputee.
Don't be afraid of subtle value and color shifts. Otherwise the image will look unfinished and flat.
Don't guess anatomy. if you are having trouble drawing a body part, it means you don't understand the anatomy. go research it.
Don't reinvent the wheel. chances are someone already made the same mistakes you did. Go to the forums and see what advice other artist are getting. Learn from their mistakes also.
Don't use lens flare. Ever!
Don't use photoshop filters by themselves. they will make your image flat and lazy. Use them as a starting point and then paint over it.
Don't just start drawing or painting and shuffle and add things around as you go. This isnt a jigsaw puzzle. Doing this will most likely end in frustration and failed painting. Plan your composition, value scale and palette with thumbnails.
Don't add details all over the image. or in shadow areas. keep the details in the midtone areas and only near the focal point(s)
Don't paint individual strands of hair. it will look like a head of straw. Paint thick locks of hair starting from dark to light. building up the light, and making smaller and smaller locks of hair. add soft stray hairs going in random directions for a more realistic look. Hair is reflective like skin and will reflect its surrounding colors
________________________
BALANCE LINE: the line of balance runs from the sternum down to the weight bearing foot. when both feet are supporting the weight. the line of balance falls between the feet.. you can make any pose you want, just as long as one foot falls under the pit of the sternum.
BONE LANDMARKS: the bony areas on this image are marked in dark bold strokes. this is where you use to measure your proportions. also you can place accents of dark or light (depending on your light source) in these areas to to emphasize your light source.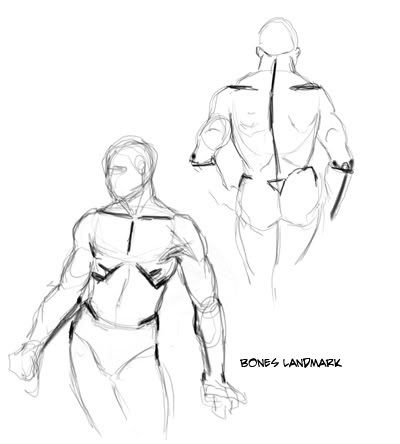 CONCAVE / CONVEX: the muscles and bones of the torso act like a fold and tuck process. where there are bone landmarks, there is a tuck / or depression of muscle. this is usually in shadow. muscles are folded on top of bone and are convex in nature. so naturally they will have highlights and be in the light more.
INTERCONNECTING LINES. call it what you will, interconnect or crossing over. if you apply this to your figures, it will bring more realism to the pose. when overlapping is used with the element of line, this creates an illusion of depth and roundness. especially true in foreshortening.
Law of motion: drawing is a long chain of events. IF one body part is drawn, it should then determine the position of the next. if you make an error in the early stages of a scene or figure drawing, it can affect everything else in a unsuccessful way.
im sure you have heard of a the scientific genius, sir isaac newton. without going into a science lesson, one of his many laws, is the law of motion. it is simplified to "for every action there is an equal and opposite reaction" now he was talking about particles and atoms. but this is also true in the human figure. if one shoulder goes up or thrust out, the other thrust back, or drop down. if the left arm is moved forward, the right leg is moved forward, along with a twisting torso, to maintain balance and motion. this may seem obvious in large gestures, such as running. I bring this up because you can also use this to make new and interesting poses. or to make mediocre pose more dynamic.
---
FaceBook
|
opendora
|
MyYoutube